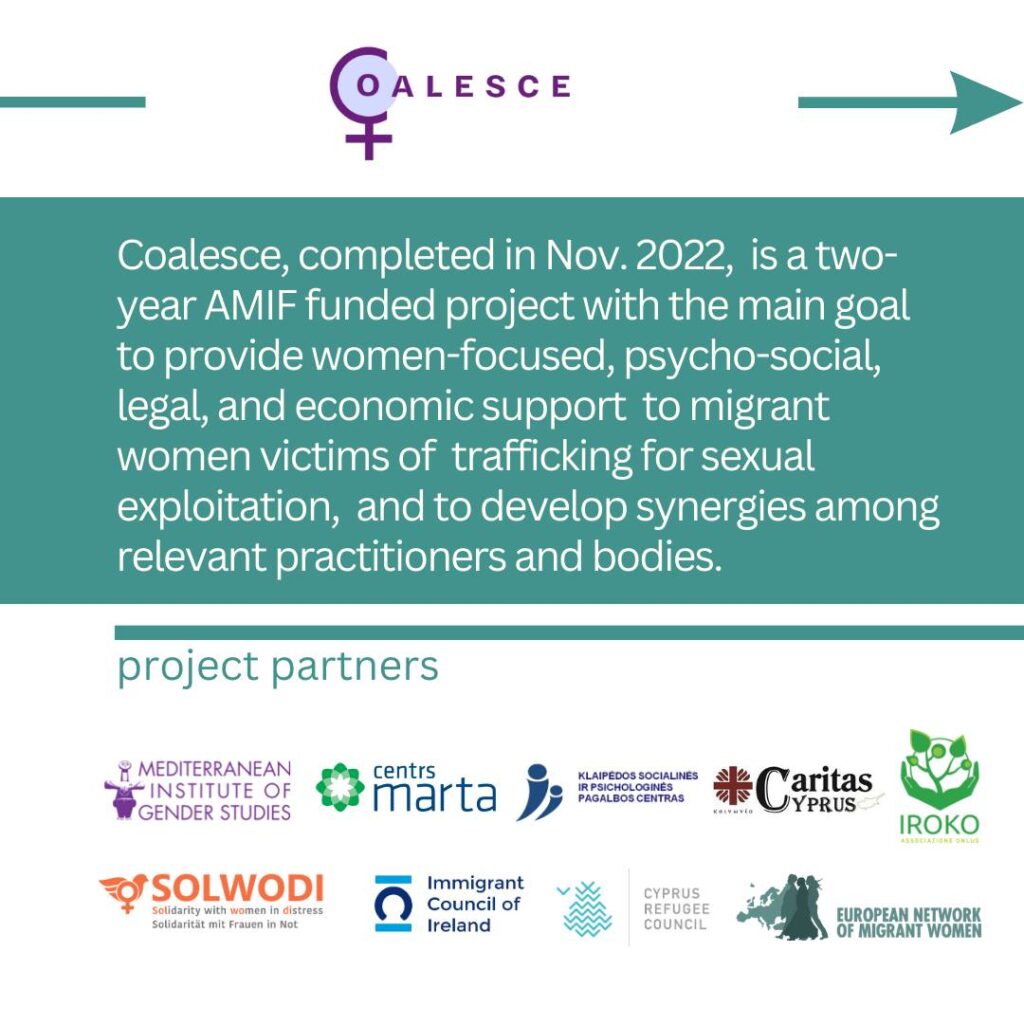 On the occasion of World Day against Trafficking in Persons 2023, the Mediterranean Institute of Gender Studies (MIGS) shared the results of the external evaluation by Gunilla Ekberg, Human Rights Lawyer & Researcher, for the #AMIFEU-funded project, #COALESCE. The COALESCE project is dedicated to providing comprehensive psycho-social support to female migrant victims of trafficking for sexual exploitation in Europe and was implemented by a consortium of organizations across Europe including three from Cyprus—MIGS, the Cyprus Refugee Council and Caritas Cyprus.
Together with survivor participants, the COALESCE partnership presented final project results that focused on the legal, psycho-social, and economic empowerment of women victims of trafficking for sexual exploitation and abuse. The project's "Mind the Gap" reports shed light on gaps in assistance and support in 6 EU countries—from the perspective of victims of sexual exploitation. Additionally, the project involved the development, implementation, and evaluation of a Gender-Specific Integration Model (GeSIM), a vital step forward in empowering victims and promoting inclusivity.
As a COALESCE partner, we join its lead MIGS in taking immense pride in the integration activities that have benefited 116 women and the 10 knowledge-exchange events that involved 271 national and European actors. Together these activities fostered a network of collaboration and understanding.
Furthermore, the GeSIM methodology was actively promoted through 6 national events and 1 EU-wide event showcasing its practical implementation and direct benefits for women survivors.
Read the COALESCE project external evaluation.